This recipe was adapted by me from a recipe for Hannukah Coin Cookies that appears on the Hershey's Cocoa website.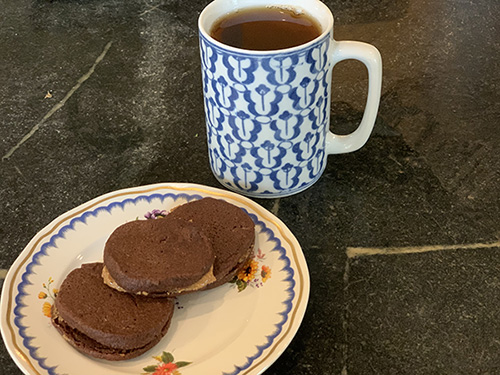 1 cup room-temperature butter (2 sticks, or 225 grams)
1 egg
1 cup sugar (200 grams)
1 US tsp almond or vanilla extract
½ cup natural unsweetened cocoa powder such as Hersheys (50 grams)
1 ½ US tsp baking powder
½ US teaspoon salt
1 ¾ cups all-purpose flour (453 grams)—if you have self-rising flour, add 1 ½ tsp flour to the total, and omit extra baking powder.
Filling:
About 1 cup or slightly less of any of the following:
Chestnut spread
Speculoos spread
Hazelnut spread
Almond butter (my favorite)
Peanut butter
Smooth raspberry, cherry, or apricot jam or marmalade
Directions:
Beat together the butter, sugar, egg and almond extract in a stand mixer, or by hand until quite smooth.
Stir the dry ingredients (flour, cocoa, baking powder and salt) in a small bowl. Tip into the larger bowl with wet ingredients and beat together until well blended.
Divide the very sticky dough into two portions. Place each on a separate sheet of wax paper.
Shape each portion into a log about 8 inches long.
Wrap each log in the wax paper, roll to make a nice rounded shape, and refrigerate until firm, at least 8 hours. The wax logs can also be frozen for later baking.
Preheat to 325 Fahrenheit or 165 Celsius or Gas Mark 3. Slice the firm, chilled logs into ¼ inch thick rounds. Place rounds about an inch apart on ungreased cookie sheets or cookie sheets covered with parchment or a Silpat.
Bake about 8 minutes or until tops feel just set. Wait a few minutes before removing cookies to to a wire rack, where they should cool completely before the final step.
Take your chosen fillings and stir them gently, so they are easy to spread. Use a butter knife to put a good-sized schmear on one cookie. Top with the other.
80 wafers or 40 sandwich cookies.