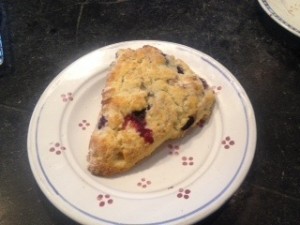 You will eat chocolate later today. That's why I'm not suggesting it for breakfast. But you can still get the morning off to a special start for your family, coworkers or friends at school with this recipe.
Scones (I pronounce them the British way, to rhyme with "John's") have been a favorite pastry since my early childhood years in England, though the scones my mother made were always studded with dried black currents. I just prefer blueberries, and a bonus is they are an anti-oxidant rich super-food. If you've never baked your own scones, you will be amazed at how softer and light they are than the misshapen hockey pucks served in most cafes. If making this recipe, please do use real buttermilk—it's very important as a leavening agent because there are no eggs in this recipe.
Valentine's Morning Buttermilk Blueberry Scones
Makes 12 large scones
3 cups self-rising flour*
½ cup granulated sugar
¾ cup (1 ½ stick cold unsalted butter) cut into small pieces
1 cup fresh blueberries (about ½ of one dry pint)
1 cup plus 1 tablespooon buttermilk
1 teaspoon vanilla extract
2 tablespoons demerara, "Sugar in the Raw," or other large-grain dusting sugar
Preheat oven. If you are baking in a convection oven, set it at 400. If regular oven, 425.
Line a very large baking sheet or two baking sheets with parchment paper. I like plenty of room around the scones.
Whisk flour and granulated sugar together in a bowl. Add the butter pieces, either cutting in with a fork or using your hands to break them up smaller. After about 3 minutes work, you should have a nicely mixed flour-butter mixture with the texture of gravel. DO NOT use a mixer. At the very end, fold in the blueberries.
Combine the cup of buttermilk and vanilla extract. Pour over the flour-butter mixture and use your hands to incorporate the wet ingredients. Be careful to avoid over-working the dough, or the scones won't be airy. When you've produced a rough ball of dough, dump it out on a floured cutting board.
Divide the ball into two balls. With floured hands, Press each ball into an imperfect circle about 1 inch thick. Use a butter knife to cut each ball into six wedges.
Using a brush, brush the remaining buttermilk on the tops of the scones and sprinkle with the demerara sugar.
Place the finished scone wedges about 2 inches apart on the baking sheets. Bake approximately 20 minutes until the tops of the scones are golden and feel firm to the touch.
Let cool about two minutes before eating. These are sweet enough not to need any adornment–but jam, honey and butter are always proper additions when you're eating scones. Also, strawberries and clotted cream on the side would make it either a "cream tea" or an out-of-the-world breakfast.
*If you don't have this, add ½ tsp salt and 1½ tsp baking powder per cup of flour to get the same result.