This post originally appeared on Murder Is Everywhere.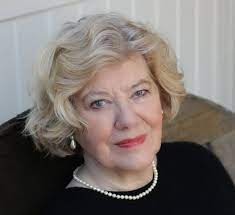 I've been thinking about the mystery author Anne Perry, who recently died in Los Angeles at age eighty-four from declining health. Anne wrote roughly 102 books and many short stories and essays over her forty-five-year career. The Times of London named her as one of their 100 Masters of Crime of the Twentieth Century. She was the winner of the Edgar Award, and multiple Agatha Awards, including one for lifetime achievement. She was also named the Distinguished Guest of Honor at the 2020 Bouchercon World Mystery Convention.
After a prolific mystery author dies, eulogies discussing the value of their work typically flood newspapers and social media. Yet there's been scarcely a ripple about Anne's death, despite her importance as one of the founding authors of the socially relevant historical mystery genre. Perhaps this is because people still can't come to terms with Anne Perry the novelist, and Anne Perry the person.
Anne Perry is a pen name. The author was born with the name Juliet Hulme. In 1954, when she was fifteen, she and her best friend Pauline Parker, 16, committed a violent murder in Christchurch, New Zealand. Both admitted to the crime and served five-year sentences in different jails. Only their youth saved them from the death penalty.
The tragic bludgeoning death of Honora Parker has been recounted in great detail by journalists, and in a 2014 book by Joanne Drayton, The Search For Anne Perry: The Hidden Life of a Bestselling Crime Writer. The Hulmes were divorcing and moving away from New Zealand to England and South Africa, which would have broken up the girls. Pauline and Juliet envisioned Honora's death as providing a path for the girls to stay together.
After completing her prison sentence, Juliet was released at age 20 under the condition that she never see Pauline again. Juliet legally changed her surname to Perry, that of her new stepfather, and she chose Anne as a new first name. After moving to England, she first worked at various jobs including flight attendant, limousine dispatcher, and insurance underwriter. She longed to write, and lived for some time in California, where she tried to break into screenwriting without success. In 1969 California, she met disciples of the Church of Latter-Day Saints, and she became a Mormon, an action that was to influence the rest of her life, giving her hope for personal redemption and a driving theme for the books she'd eventually write.
In 1994, New Zealand filmmakers Peter Jackson and Fran Walsh cowrote and produced the film Heavenly Creatures, a fictionalization retelling of the relationship between Juliet and Pauline, culminating with Honora's death. The  high schoolers were portrayed as lovers, something that Anne vehemently denied, although she acknowledged responsibility for her role in the crime and has said that going to prison was the proper outcome. After the film's release, journalists tracked the whereabouts of the long-lost Juliet Hulme, and a quiet writer, now in her mid-fifties, was exposed.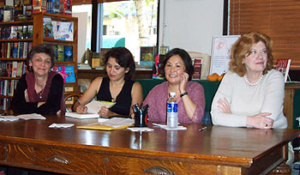 I met Anne Perry in November 2006 in Los Angeles. Along with a number of other Sisters in Crime members, we'd traveled to take part in "Sisters in Crime Goes To The Movies", a conference that gave writers a chance to learn about transforming books to film. Anne's first book, The Cater Street Hangman, had been made into a film in 1998 which won an Edgar nomination for screenwriting. She was interested in having more of her work reach a cinema audience. While no more films of her books were made prior to her death, in 2012, she created a short film, Put Your Heart On The Page.
As it turned out, Anne, Marcia Talley, and I were all staying in the Beverly Laurel Hotel. The three of us visited many of the spots on the conference agenda and spoke on a mystery panel, along with Naomi Hirahara, at the Mystery Bookstore in Los Angeles.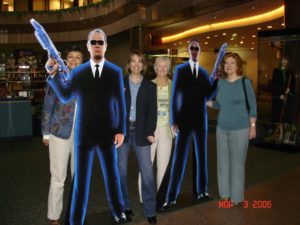 I recall Anne's friendliness, formality, and gratitude for the companionship and driving help. I liked her and was awed to meet someone who managed to be prolific while writing to high literary standards. During one conversation in the car about everyone's writing habits, Anne estimated her typical writing schedule as twelve hours a day. This was not a boast; it was an admission of how solitary her life was in an old castle in the remote Scottish fishing village of Portmahomack.
I recently saw what Anne Perry's private life was like when I streamed Interiors, a 2009 documentary made by Dana Linkiewicz with the cooperation of Anne. The writer speaks frankly to the camera about her life, and the film includes interview with her best friend, her driver, her secretary, and her younger brother, retired from a medical career and now helping Anne with historical research. Anne went to church on Sundays, but aside from that, her life was devoted to writing.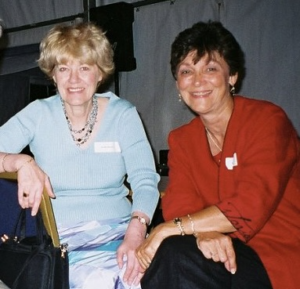 Marcia Talley, who is grieving Anne's loss, said their friendship began in 1995 at a St. Hilda's Crime and Mystery weekend in England. Marcia, who was not yet published and visiting from Maryland, walked into the conference's opening reception without knowing many people. A tall red-haired woman sipping orange juice caught her eye. Because the woman was also alone, Marcia decided to approach her.
"Anne was a wonderful conversationalist," Marcia recounted recently. "She always listened to what I had to say with obvious interest, and later in our friendship—we attended many St. Hilda's conferences over the subsequent years—as she grew comfortable in my company, she gradually revealed more about herself."
A few years after that first conference meeting, Anne celebrated the publication of Marcia's first mystery novel, Sing It To Her Bones. When Marcia's first publisher dropped her amateur sleuth series after two books, Anne gave her advice to keep producing work for the reading public. Marcia created two serial novels, Naked Came the Phoenix and I'd Kill For That, with all the chapters written by bestselling novelists; Anne wrote a chapter in each book. In turn, Anne invited Marcia to write stories for four different mystery anthologies that she was editing.
Anne also gave Marcia advice that runs contrary to the standard advice for a writer facing cancellation.
"Anne read my Hannah Ives novels—she bought one every year at the conference bookstore, bless her! She was a great fan of the character and was confident that Hannah would live again. 'Don't give up on her,' she said. So, I didn't, and the next three novels were picked up by Morrow-Avon, and the fourteen after that by Severn House."
Outside of conferences and speaking engagements, Anne's life was all about writing. Out of the 102 books, none were about her personal experience with crime. Perhaps this was because Anne's memories of the crime were blocked, as Marcia said. She also may have considered it immoral to profit by writing about someone she'd killed. Ironically, many prisons have programs where writers volunteer as teachers of creative writing. When former inmates occasionally have their writing published, they are often lauded for it. But we anticipate ex-convicts' writing to be revealing of self. Their writing is supposed to be for healing; it's not supposed to become a well-paying career.
Anne chose to set her writing in Victorian and Edwardian England. She made plenty of money writing gentle mysteries with exquisite sensory detail and nuanced characters. The recurring themes of kindness and a longing for redemption run through her work.
"I always felt there was a lot of Anne in her character William Monk, who suffered from amnesia," Marcia says. "Anne told me on more than one occasion that she had no memory of the murder of her friend's mother, but she knew that she had done it."
I've read and enjoyed a few Anne's full-length novels about Charlotte and Thomas Pitt, and I have yet to get started on her books about Hester and William Monk, those narrated by their son Daniel, and other series, including one following a family during World War I, and another that takes a heroine, Elena Standish, into pre-World War II intrigue.
I especially enjoy Anne Perry's Christmas novellas. These tales usually start with a scenario wherein a central character is pulled away from the anticipation of holiday merriment at home with an unwelcome order to help someone far away. Strong winter weather—perhaps a blizzard, or a very rough storm—inevitably arises. The mystery unfolds, and inevitably, the wrongdoer's reason for the crime is explained with compassion. The final scene is always about family, and the redemption of Christmas.
I find the audiobook versions, especially those read by Terrence Hardiman, exceptionally calming. If there's a night that I feel too restless to sleep, I will play the audio version of Anne Perry's A Christmas Journey or something similarly named. As long as it's got 'Christmas' in the title and Perry on the spine, I will be off to sleep within twenty minutes.