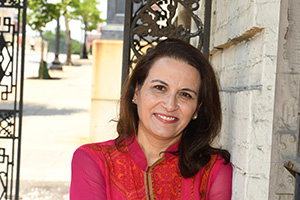 Sujata Massey is the author of thirteen novels, two novellas, and numerous short stories. Her work is published in seventeen countries. Her novels have won the Agatha and Macavity awards and been finalists for the Edgar, Anthony, and Mary Higgins Clark prizes. Sujata writes a modern mystery series set in Japan starring the young female amateur sleuth Rei Shimura, and suspense and mystery fiction set in late British colonial India featuring different heroines.
Sujata was born in England to parents from India and Germany, and was raised mostly in St. Paul, Minnesota, although her home for more than a quarter century has been Baltimore, Maryland. She holds a B.A. in the Writing Seminars from the Johns Hopkins University and was a features reporter for the Baltimore Evening Sun newspaper before becoming a full-time novelist.
Sujata welcomes correspondence from readers. For an answer to a specific question, contact her via her website or visit Sujata Massey Author on Facebook. She also sends a free newsletter, AsiaFile, to super-fans interested in book news, Asian recipes, and giveaways. For a free email subscription to AsiaFile, sign up here.