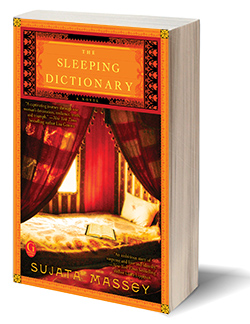 After six years of writing and rewriting, my standalone historical novel, The Sleeping Dictionary, is here!
Early reviews have come in strong. In a starred review, Bridget Thoreson from Booklist wrote, "Trapped by her past and uncertain of her future, the peasant girl Kamala's journey toward independence—personal and political—unfolds in this riveting novel… The Sleeping Dictionary, an utterly engrossing tale of love, espionage, betrayal and survival, is historical fiction at its best, accessible to all audiences."
The book has also been nominated for the Indie Next list. Bookseller Linda Bond of Spokane, Washington's landmark bookstore, Auntie's, read an advance reviewers' copy and wrote: "The history of India never ceases to amaze. The people, the caste system, the food and climate, all these factors are woven together in this tale of a young girl during the years framed by two World wars. Kamala is just one girl, orphaned by disaster, but she is a fighter and her rise within the British colonial society, after being a freedom fighter in Calcutta, is not at all common. You'll applaud her ability to turn the tables on those who would use her, and her struggles with memories of love and the choices she must make."
See photos from Old Calcutta, and read an excerpt from the book
Read an interview about researching the book, and listen to interviews with KFAI-FM and WYPR's Maryland Morning.
Events
May 2-4: Malice Domestic Mystery Convention, Hyatt Regency Hotel, Bethesda Maryland. Sujata will appear on the panel "Two For the Price of One: Mixed-Genre Mysteries" on Saturday, May 3, 3 PM, and and will sign books. The panel moderator is Vincent H. O'Neil, and the other panelists are Anne Cleeland, Carole Nelson Douglas and Ellen Larson.