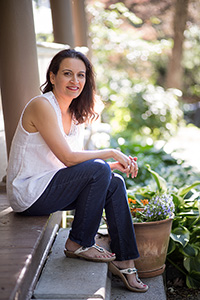 Just as my kids are loading up with heavy books for the school year, I am doing so, too!
Fall is back-to-business time for writers. Literary festivals make weekends in September super-busy. I'm reading many mystery novels, plus historical research, and re-editing my own works in progress until I can barely see.
In a few months I'll publish Kizuna Coast, the first Rei Shimura mystery in six years. It's very important to me that this book is released before Christmas in hardcover, trade paperback, e-book and audiobook modes. Argh! You can get an advance a look at the novel's characters and crises right here.
Do You Want to Review Kizuna Coast?
I'm seeking regular readers and bloggers who would like to own a copy of Kizuna Coast before it goes on sale in late fall, 2014. I'll give away 30 Advanced Reader Copies (ARCs) of the book's e-book version (Mobi or Epub) to qualified readers. Here's how to get the whole e-book for free, 3 weeks prior to publication:
Post an honest review of any of these books (The Sleeping Dictionary, The Ayah's Tale, The Floating Girl, The Flower Master, Shimura Trouble, or The Convenience Boy and Other Stories of Japan) and send me the link to this review. Only one review is required, but please post that review at any of the following e-book sellers: Amazon, iTunes, Kobo, or barnesandnoble.com. Then send me an email at sujatamassey@mac.com with the subject line "I'm a Reviewer" and the link to your review.
If you're among the first 30 people who send a completed application, you'll get the e-book ARC.
Post your short review of Kizuna Coast soon at the same bookseller after the book is published. I'll email you to let you know the exact publication date, which is looking like early November.
Thanks for helping this new Rei novel—the first in 6 years!—get some buzz.
I've also recently released two e-books of older Rei books. The Flower Master, the third Rei mystery, is on sale as a single novel and also inside the Killer Femmes Book Bundle 5-author mystery anthology. Killer Femmes will only remain on sale through 2014…when this .99 deal is gone, it's not coming back!
Also new in e-book form is The Floating Girl, the fourth Rei myster. The book is set in the world of Japanese anime and finally has a cover that reflects the topic. It was so interesting to revisit this book about 13 years after first writing it. The characters were actually using Palm Pilots and Hugh Grant was considered a sex symbol. There were things in the book that made me laugh. And I caught some awkward language that brought out my red pencil.
The Floating Girl ebook is available from Amazon, iBooks, Kobo and Barnes & Noble.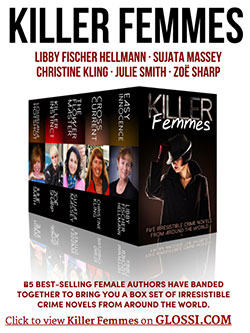 Another straight-out-of-the-past book project is Killer Femmes, a bundle of 5 irresistible crime novels featuring adventurous women sleuths. Killer Femmes includes The Flower Master, the Rei Shimura mystery that precedes The Floating Girl. My author friends Libby Fischer Hellmann, Christine Kling, Zoë Sharp and Julie Smith have each contributed a book from one of their series. Can you believe the price for all this diversion is just 0.99? It's for sale at Amazon, iBooks, Kobo worldwide—and also for the Barnes & Noble Nook in the US. Now you won't need to take 5 books for all your different moods on your beach holiday…just this one!. And if you haven't done this already, please subscribe to my monthly newsletter. In July I'll be announcing raffles for Kindle Fires and eBook gift certificates as part of our Killer Femmes celebration.
Thanks for stopping by to check out the reading list. Explore what's new, and let me know what you think.
Sujata
Events:
Saturday, Sept. 27, 5 PM: Baltimore Bestsellers: The Ivy Bookshop Tent at the Baltimore Book Festival, Inner Harbor Rash Field, Baltimore, MD. Free admission to an author's conversation with Charles Balfoure and me, followed by book sales and signing.
Saturday, Oct. 11, 1 PM: Baltimore Writers: a free triple reading and signing with Jen Michalski and James Magruder at Politics & Prose, 5015 Connecticut Ave NW, Washington, D.C.