"Expertly combines the delights of Agatha Christie with the period charm of 'Downton Abbey.'"
—Siasat Daily (India)
The Widows of Malabar Hill by Sujata Massey
2018-02-01T21:01:37+00:00
"Expertly combines the delights of Agatha Christie with the period charm of 'Downton Abbey.'" —Siasat Daily (India)
http://sujatamassey.com/testimonials/1382/
"The two plotlines wonderfully depict the development of the main character and the mystery as it unfolds... Fresh and original."
–Library Journal, starred review
The Widows of Malabar Hill by Sujata Massey
2017-10-23T17:20:43+00:00
"The two plotlines wonderfully depict the development of the main character and the mystery as it unfolds... Fresh and original." –Library Journal, starred review
http://sujatamassey.com/testimonials/1267/
"Beautifully written… heralds the arrival of a compelling feminist detective and is a worthy addition to the burgeoning canon of Indian historical mystery fiction."
–Firstpost (India)
The Widows of Malabar Hill by Sujata Massey
2018-02-22T21:32:26+00:00
"Beautifully written… heralds the arrival of a compelling feminist detective and is a worthy addition to the burgeoning canon of Indian historical mystery fiction." –Firstpost (India)
http://sujatamassey.com/testimonials/1393/
"Perveen Mistry is an unforgettable heroine... With gorgeous prose, Massey weaves a captivating mystery. The Widows of Malabar Hill is an extraordinary novel."
–Allison Leotta, author of The Last Good Girl
The Widows of Malabar Hill by Sujata Massey
2017-10-23T17:08:12+00:00
"Perveen Mistry is an unforgettable heroine... With gorgeous prose, Massey weaves a captivating mystery. The Widows of Malabar Hill is an extraordinary novel." –Allison Leotta, author of The Last Good Girl
http://sujatamassey.com/testimonials/1263/
"Sujata Massey brings 1920s Bombay to life... With an indomitable heroine and a solid cast of sidekicks, this is the start of a series mystery readers should not miss."
—Amulya Malladi, author of The Copenhagen Affair
The Widows of Malabar Hill by Sujata Massey
2017-10-23T16:59:04+00:00
"Sujata Massey brings 1920s Bombay to life... With an indomitable heroine and a solid cast of sidekicks, this is the start of a series mystery readers should not miss." —Amulya Malladi, author of The Copenhagen Affair
http://sujatamassey.com/testimonials/1258/
"Deft prose and well-wrought characters... a splendid first installment in what promises to be a memorable series."
—Wall Street Journal
The Widows of Malabar Hill by Sujata Massey
2018-02-03T15:32:50+00:00
"Deft prose and well-wrought characters... a splendid first installment in what promises to be a memorable series." —Wall Street Journal
http://sujatamassey.com/testimonials/1384/
"Perveen Mistry is an extraordinary heroine—she's whip-smart, strong-willed, and, most importantly, compassionate... Perveen is sure to join the leads of great mystery fiction."
–Susan Elia MacNeal, author of the Maggie Hope mysteries
The Widows of Malabar Hill by Sujata Massey
2017-10-23T17:10:55+00:00
"Perveen Mistry is an extraordinary heroine—she's whip-smart, strong-willed, and, most importantly, compassionate... Perveen is sure to join the leads of great mystery fiction." –Susan Elia MacNeal, author of the Maggie Hope mysteries
http://sujatamassey.com/testimonials/1264/
"[An] outstanding series launch... The period detail and thoughtful characterizations, especially of the capable, fiercely independent lead, bode well for future installments."
—Publishers Weekly, starred review
The Widows of Malabar Hill by Sujata Massey
2017-11-08T19:34:59+00:00
"[An] outstanding series launch... The period detail and thoughtful characterizations, especially of the capable, fiercely independent lead, bode well for future installments." —Publishers Weekly, starred review
http://sujatamassey.com/testimonials/1287/
"A fascinating setting, an extraordinary new sleuth, and a story that enthralls you... Sujata Massey's new historical series is absolutely terrific, and you are just going to love Perveen Mistry."
—Charles Todd, author of the Ian Rutledge & Bess Crawford series
The Widows of Malabar Hill by Sujata Massey
2017-10-23T17:02:36+00:00
"A fascinating setting, an extraordinary new sleuth, and a story that enthralls you... Sujata Massey's new historical series is absolutely terrific, and you are just going to love Perveen Mistry." —Charles Todd, author of the Ian Rutledge & Bess Crawford series
http://sujatamassey.com/testimonials/1260/
"Readers are treated to a full view of historical downtown Bombay in an unforgettable olio that provides the perfect backdrop to the plot... [a] well-constructed puzzle."
–Booklist, starred review
The Widows of Malabar Hill by Sujata Massey
2017-10-23T17:16:24+00:00
"Readers are treated to a full view of historical downtown Bombay in an unforgettable olio that provides the perfect backdrop to the plot... [a] well-constructed puzzle." –Booklist, starred review
http://sujatamassey.com/testimonials/1265/
"Massey clearly knows just what she's doing, which is giving readers both a captivating whodunit and a lasting base for more books featuring this same cast of characters."
—Toronto Globe & Mail
The Widows of Malabar Hill by Sujata Massey
2018-02-01T19:29:11+00:00
"Massey clearly knows just what she's doing, which is giving readers both a captivating whodunit and a lasting base for more books featuring this same cast of characters." —Toronto Globe & Mail
http://sujatamassey.com/testimonials/1378/
"Introducing a sympathetic heroine with a painful past while shedding light on a fascinating cloistered historical world, Widows is not only immediately engaging–it has staying power."
–Lyndsay Faye, author of Gods of Gotham
The Widows of Malabar Hill by Sujata Massey
2017-10-23T17:22:18+00:00
"Introducing a sympathetic heroine with a painful past while shedding light on a fascinating cloistered historical world, Widows is not only immediately engaging–it has staying power." –Lyndsay Faye, author of Gods of Gotham
http://sujatamassey.com/testimonials/1268/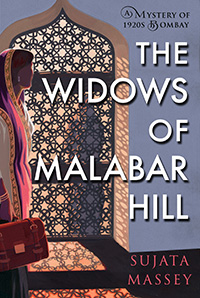 Welcome to the Sujata Massey website. My new book, The Widows of Malabar Hill, is here! It's a mystery set in 1920s Bombay. Perveen Mistry, the young daughter of a respected Zoroastrian family, has just joined her father's law firm, becoming one of the first female lawyers in India. Armed with an Oxford legal education, Perveen also has a tragic personal history that makes her especially devoted to championing and protecting women's legal rights.
Mistry Law has been appointed to execute the will of Mr. Omar Farid, a wealthy Muslim mill owner who has left three widows behind. But as Perveen examines the paperwork, she notices something strange: all three of the wives have signed over their full inheritance to a charity. What will they live on? Perveen is suspicious, especially since one of the widows has signed her form with an X—meaning she probably couldn't even read the document. The Farid widows live in full purdah—in strict seclusion, never leaving the women's quarters or speaking to any men. Are they being taken advantage of by an unscrupulous guardian? Perveen tries to investigate, and realizes her instincts were correct when tensions escalate to murder. Now it is her responsibility to figure out what really happened on Malabar Hill, and to ensure that no innocent women or children are in further danger.
I am thrilled to the moon and back that Publishers Weekly listed it as one of top 10 most anticipated thrillers and mysteries for this fall and that Booklist and Library Journal have given it starred reviews. You can purchase it wherever you like to buy books. If you order from my neighborhood bookstore The Ivy, you can request that I sign the book any way you like.
Why not check out the first chapter? You can also read about Cornelia Sorabji, who helped inspire the character of Perveen Mistry, see photos of some of the real places mentioned in the book, and read a Q&A about the book.
Happy reading!