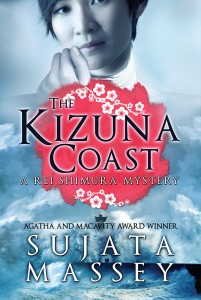 The Kizuna Coast is available now!
The new Rei Shimura novel, THE KIZUNA COAST, is now available as an e-book and trade paperback. Right now, the paperback is on sale at Amazon.com, and the e-book is available at Amazon, Barnes & Noble and Kobo. Distribution spreads to independent and chain bookstores and all Internet sales platforms worldwide on March 15, 2015. I'll let you know later on about the various public and Internet special events in March. Hardcover and audio-book versions are coming out that month, too.
I want to offer a heartfelt thank-you to everyone who encouraged me to write this book and may have assisted with early reading for grammatical errors, and/or reading the book with an eye toward book reviewing.
Also, many Asiafile readers pre-ordered books, and your efforts launched THE KIZUNA COAST into the top 20 best-selling Asian-American literature titles in the Kindle Store, where it has stayed for two months straight! Arigato gozaimashita (my head is bowed). Also, thanks to everyone who pre-ordered and entered the drawing for signed backlist books. They've almost all been sent out.
My Goodreads page has been up and running for a while, and I was chuffed to see Judy's review of THE KIZUNA COAST. An excerpt:
"You will not 'coast' through this new Rei series book! Rei's radar is on, finding answers to mysterious coincidences… we vividly learn about Japanese history and impacts of actions that cause Rei to uncover mysteries with twists that keep the reader turning pages to the end, with a little romance mixed in. It has been a long time since we connected with Rei and her clan. Looking forward to her next adventure!"
If you want to get in on that adventure right now, consider joining the brand-new Rei Shimura Street Team. In exchange for spreading the word about THE KIZUNA COAST, team members get freebies, advance looks into books and more. To learn more, check out the application.

Kizuna means bonds of loving kindness, and was used often right after the tsunami when referring to help people gave each other. According to my friend Satoshi, the characters forming that kizuna are very old Chinese ones reinterpreted over centuries of life in Japan. On the left, the character means "thread" or "string"; the character to its right originally meant "half" but now refers to "strong feelings that tie people."
I want to share one last kizuna story with you in 2014. It comes from Ishinomaki, one of the most devastated towns that I researched when trying to create my own fictional village in Tohoku called Sugihama.
Hamaguri Hama is an Ishinomaki café located an old Japanese house that sits on a cliff overlooking the bay. I hope this short film celebrating daily life at Hamaguri Hama will make you smile, and perhaps inspire you to visit Tohoku one day.
Thanks for stopping by. Explore what's new, and let me know what you think.
Sujata