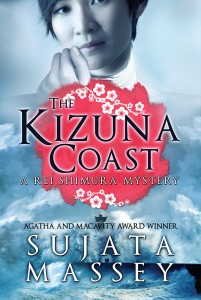 It's almost time for The Kizuna Coast.
I've finished most of my revisions and am waiting for corrections from my copy editor and some other important first readers who really know the book's setting: the Great Tohoku Earthquake of 2011.
The 11th Rei mystery begins on the muddy, shattered coast, and then moves back to the edgy nightclub and artistic world of Tokyo…and ultimately, to the truth.  Starring characters include Rei's old friends Mr. Ishida and Richard Randall, and the Yohohama Shimura relatives.  New friends include tsunami survivors, volunteers, and a very sniffy Akita-Beagle mix dog.
Right now, pre-orders of the ebook are available at Amazon for a special intro price of $2.99.
E-Book distribution will go to multiple platforms sometime in the new year. Pre-order ebooks will arrive Dec. 15–in time for long holiday plane rides. Oh, and don't forget about the GIFT button on the book's sales page . . . when you want to surprise someone.
GIVEAWAY CONTEST…  just in time for Hanukkah and Christmas!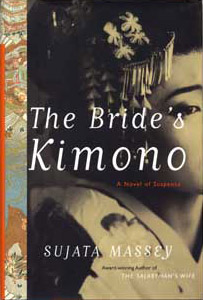 I'm celebrating the book launch starting now with a giveaway of 11 previously published hardcover Rei novels (11 because this is the 11th book in the series). You could be one of the crew who receives a rare signed 1st edition hardcover! If you check how much the out-of-print hardcovers are valued on bookselling sites, you'll realize what a special gift this could make for someone. Entrants for this contest, please be sure that you have a mailing address within the U.S.; but the most important thing is to send me a screenshot or forwarded email from Amazon about your pre-ordered Kizuna Coast.
If you sign up for my free author newsletter Asiafile at the same time (or are already a member) let me know in the message you send me and you will be entered TWICE. You can send me an email using the "Contact Sujata" button that's all over this website. Pretty easy!
I've also recently released two e-books of older Rei books. The Flower Master, the third Rei mystery, is on sale as a single novel and also inside the Killer Femmes Book Bundle 5-author mystery anthology. Killer Femmes will only remain on sale through 2014…when this .99 deal is gone, it's not coming back!
Also new in e-book form is The Floating Girl, the fourth Rei myster. The book is set in the world of Japanese anime and finally has a cover that reflects the topic. It was so interesting to revisit this book about 13 years after first writing it. The characters were actually using Palm Pilots and Hugh Grant was considered a sex symbol. There were things in the book that made me laugh. And I caught some awkward language that brought out my red pencil.
The Floating Girl ebook is available from Amazon, iBooks, Kobo and Barnes & Noble.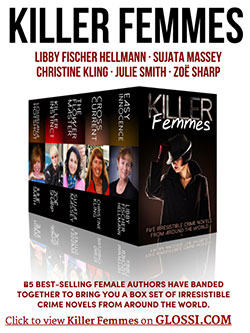 Another straight-out-of-the-past book project is Killer Femmes, a bundle of 5 irresistible crime novels featuring adventurous women sleuths. Killer Femmes includes The Flower Master, the Rei Shimura mystery that precedes The Floating Girl. My author friends Libby Fischer Hellmann, Christine Kling, Zoë Sharp and Julie Smith have each contributed a book from one of their series. Can you believe the price for all this diversion is just 0.99? It's for sale at Amazon, iBooks, Kobo worldwide—and also for the Barnes & Noble Nook in the US. Now you won't need to take 5 books for all your different moods on your beach holiday…just this one!. And if you haven't done this already, please subscribe to my monthly newsletter. In July I'll be announcing raffles for Kindle Fires and eBook gift certificates as part of our Killer Femmes celebration.
Thanks for stopping by to check out the reading list. Explore what's new, and let me know what you think.
Sujata