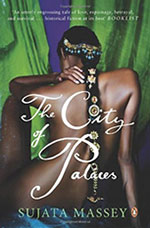 Welcome to my world of historical and suspense fiction! It's been a busy last few months for me.
The City of Palaces just came out in India in an English language edition from Penguin-Random India. If you're intrigued, you can find it in bookshops in South Asia as well as Amazon India. It's basically the same book as The Sleeping Dictionary, save for the wonderful British spellings and some extra editing that makes sense for the India market. I always think that editing makes things better.
Read a review of The City of Palaces from India Today (PDF)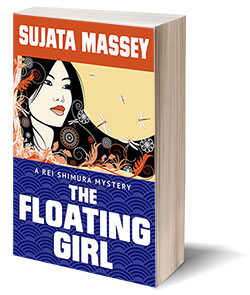 I've had some experience with this concept recently. I re-edited The Floating Girl, the fourth Rei Shimura novel, which fell out of print a few years ago. This is a humorous mystery wherein Rei delves into the world of Japanese animation and comes up with murder.
It was so interesting to revisit this book about 13 years after first writing it. The characters were actually using Palm Pilots and Hugh Grant was considered a sex symbol. There were things in the book that made me laugh. And I caught some awkward language that brought out my red pencil.
The Floating Girl ebook is available from Amazon, iBooks, Kobo and Barnes & Noble.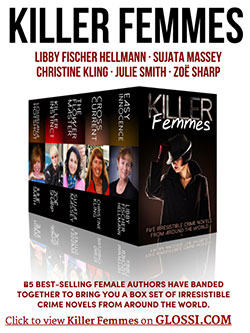 Another straight-out-of-the-past book project is Killer Femmes, a bundle of 5 irresistible crime novels featuring adventurous women sleuths. Killer Femmes includes The Flower Master, the Rei Shimura mystery that precedes The Floating Girl. My author friends Libby Fischer Hellmann, Christine Kling, Zoë Sharp and Julie Smith have each contributed a book from one of their series. Can you believe the price for all this diversion is just 0.99? It's for sale at Amazon, iBooks, Kobo worldwide—and also for the Barnes & Noble Nook in the US. Now you won't need to take 5 books for all your different moods on your beach holiday…just this one!. And if you haven't done this already, please subscribe to my monthly newsletter. In July I'll be announcing raffles for Kindle Fires and eBook gift certificates as part of our Killer Femmes celebration.
Happy summer reading!
See photos from Old Calcutta, and read an excerpt from The Sleeping Dictionary
Read an interview about researching The Sleeping Dictionary, and listen to interviews with KFAI-FM and WYPR's Maryland Morning.
Events:
Sunday, Sept. 7, 11 AM: Avis Halberstadt Authors Lunch: Doubletree Hotel, 210 Holiday Court, Annapolis, MD. 410-224-3150. Ticket is $40 and includes a luncheon with me and five other authors benefiting services for metastatic breast cancer patients provided by the nonprofit group Metavivor. A portion of book sales during the signing will benefit patients.
Saturday, Sept. 27, 5 PM: Baltimore Bestsellers: The Ivy Bookshop Tent at the Baltimore Book Festival, Inner Harbor Rash Field, Baltimore, MD. Free admission to an author's conversation with Charles Balfoure and me, followed by book sales and signing.
Saturday, Oct. 11, 1 PM: Baltimore Writers: a free triple reading and signing with Jen Michalski and James Magruder at Politics & Prose, 5015 Connecticut Ave NW, Washington, D.C.